The 2017 Honda Ridgeline pick up truck was shown at the 2016 Canadian International Auto show. The all new 2017 Honda Ridgeline is slated for release in the first half of 2016.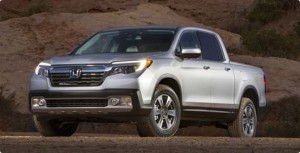 The redesigned Honda Ridgeline comes with a fresh suite of features including the i-VTM4 torque-vectoring AWD system as well as increased cabin and trunk space, that Honda claims will put them ahead of other vehicles in this segment.
Honda has based this vehicle on their Global Light Truck platform shared with their previous Ridgeline and Pilot models. The new body uses Honda's next-generation ACE body structure. The Ridgeline utilizes a fully independent suspension, which should maintain the Ridgeline's civilized road manners. Power will come from Honda's trusted 3.5-liter, direct-injected i-VTEC V-6 engine hooked up to a 6 speed automatic transmission. Honda has integrated different traction control modes including a setting for road, snow, sand, and mud ensuring a safe and comfortable drive, both off and on the street.
A 5' x 5'4" cargo bed has been designed that Honda claims is the only midsize pickup with a flat bed width of 4' (between rear wheel arches). The significance of which is the ability to haul items such as plywood or drywall sheets. Final payload capacity is to be released closer to the vehicle's launch.
Honda has continued with its novel hidden storage area under the cargo bed, for secure storage of items, a practical issue for many pick up owners. One novel and functional addition is a tailgate that can either swing out to one side or open down to extend the flat cargo bed. Contractors or tailgaters will appreciate the 400-watt AC power inverter built into the vehicle. The feature allow for the charging of power tools or to use an electric starter on a gas stove. Another first is an in-bed audio system utilizing six exciters, instead of traditional speaker units, located inside the cargo bed walls radiating up to 540 watts of audio delivered from the in cabin audio unit.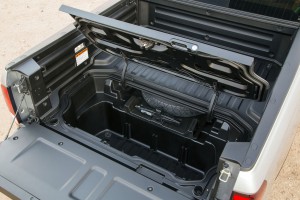 The 2017 Honda Ridgeline has received an NCAP 5-star Overall Vehicle Score from the US' NHTSA as well as an IIHS TOP SAFETY PICK+ rating. Aside from structural safety, the 2017 Ridgeline is fitted with lane departure warning, a collision mitigation braking system, and various other collision warnings and avoidance measures. Production of the Ridgeline moved from the Alliston plant in Ontario in 2008 and is now assembled in Lincoln, Alabama. For further information visit Honda Canada's website