Graeme Fletcher
Graeme is perhaps the most recognized face in the Canadian Automotive Media with his weekly features on television, in National print media and various personal appearances. Graeme has an extensive background spanning 3 decades including time as a first class mechanic, Consumer Advisor at CAA Toronto, Automotive Journalist and Magazine Editor. He is also a member of the Canadian Automotive Jury.
email: graeme@autoreviewsonline.com
Patricia Cancilla
Pat has more than 14 years experience as an automotive journalist. She was the editor of the National Post's weekly car section from 1999 to 2012, where she worked with fellow Autoreviewsonline.com writers Graeme Fletcher and Rod Cleaver. She is also a member of the Canadian Automotive Jury.
email: pat@autoreviewsonline.com
Brian Dunstan
Brian Dunstan was born in Manchester, England, but grew up in Toronto. He is currently the Evening News Producer/Host for Sun News Network.
Brian began his career in media with CBC Sports in 1993 later moving to CBC Newsworld as a writer and producer. In the 15 years with the CBC, Brian has worked on every Olympic Games beginning with Atlanta in 1996, culminating with hosting the daytime broadcast of the 2008 Beijing Summer Olympics.
During his career, Brian has gained a reputation as an opinionated, knowledgeable and informative journalist and is a frequent guest on several talk shows on Radio and Television.
email: brian@autoreviewsonline.com
Hardat Persaud
Hardat has been writing about automobiles for over a decade. He is a member of the Automobile Journalist Association of Canada (AJAC) and has a background a a licensed mechanic.
email: hardat@autoreviewsonline.com
Gerry Frechette
Gerry Frechette is a full-time automotive journalist based in Vancouver. His parents say that as a child he would stand in his playpen and name the cars passing by on their street. Some 20 years ago, he took this life-long love of cars and applied it to a career writing about them. At that time, he joined the Automobile Journalists Association of Canada, where he remains a member today.
Gerry's areas of automotive interest and expertise, besides new cars, are technology, personalities, environmental advances, driver training, motorsport, and business.
email: gerry@autoreviewsonline.com
Rod Cleaver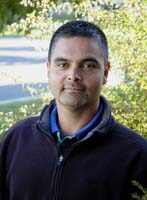 Rod has a varied background including 10 years with CAA Central Ontario. He has been an Automotive journalist for the past 20 years, including his current post as the Automotive Editor of this site and various freelance assignments for National newspapers and magazines.
email: rod@autoreviewsonline.com