Porsche revealed a new Cayman GTS and Boxster GTS at the 2014 China Auto Show in Beijing. China has become Porsche's second largest market and was an obvious site for the reveal of these two performance models.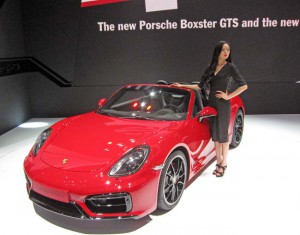 The Boxster GTS features a revised version of its 3.4-liter 6-cylinder boxer engine, mounted ahead of the rear axle. The GTS engine produces 330 horsepower, 15 hp more than the same engine installed in the Boxster "S" model and 273 lb-ft of torque.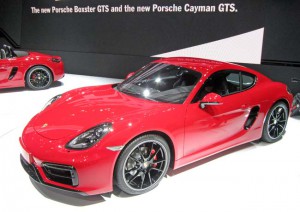 The new Cayman GTS model that also graced the stage, was also equipped with an upgraded 3.4L engine. The Cayman engine produces 340HP and 280 lb-ft of torque.
Both models come standard with Porsche's Sport Chrono package and a choice of a manual six-speed or seven speed PDK transmissions. A manual is standard but Porsche's race-bred PDK dual clutch transmission is optional. With the Sport Plus button activated, the Boxster GTS will run from 0 to 100 kms/hr in 4.4 seconds with the PDK transmission and 4.7 seconds in a manual transmission equipped model. The Cayman GTS will sprint from a standstill to 100 kms/hr in 4.3 seconds with the PDK transmission and 4.6 seconds with the manual transmission.
For anyone looking to run some top speed tests, the Boxster GTS will top out at 280 km/hr with a manual transmission and slight slower at 273 km/hr with a PDK transmission. The Cayman GTS also reflects a similar disparity with the manual equipped model topping out a 285 km/hr and the PDK model slightly slower at 281 km/hr.
Look for these models to hit Canadian show rooms in June 2014. The Boxster GTS will be priced from $83,900 and the Cayman GTS begins at $85,800.