I'm definitely a convert.
I admit I had preconceived ideas about the Tesla Model S: The hype couldn't possibly be true; the blogs from owners professing their preference for the electric car over their Ferraris were made up; it was going to catch fire while I was driving it.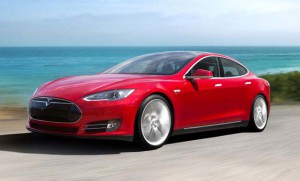 After testing the P85 Performance version of the Model S, my doubts have been banished. The electric car does indeed live up to the hype; I can believe that some owners would prefer the Tesla over their Italian supercars; and it did not catch fire during my test drive.
In fact, the Tesla Model S is the perfect car: It's gorgeous, sporty and fuel efficient. With sexy curves, 416 horsepower, 443 pound-feet of torque and a zero-to-100-kilometres-an-hour acceleration rate of just 4.4 seconds, the Tesla can hold its own with its European competitors. And 480 kilometres per charge eliminates range anxiety. Unless you live more than 240 km from work, this could be your daily driver. Even if your travel requirements take you outside of the range, that shouldn't be a problem because the Model S can be plugged into any 240-volt outlet, a standard 120-volt wall outlet or public station. The model S can be recharged at a rate of 45 km/h using a high-amperage 240-volt outlet. With a Tesla Supercharger, a 50% charge can be had in just 30 minutes![ad name="Content Left- Rod Cleaver"]
And at a fraction of the cost of those Italian stallions, it's a veritable bargain at a base price of $77,000. Once you add all of the assorted goodies that come with the 85 kWh P85 Performance Model S I drove, which starts at $103,300 — Grey Metallic Paint ($800), Panoramic Roof ($2,800), 21-inch Silver Turbine Wheels ($4,900), Black Performance Leather Seats ($1,100), Obeche Wood Gloss Decor ($750), Matching Yacht Floor ($550), Tech Package ($4,100), Smart Air Suspension ($2,500), Parking Sensors ($550), Ultra High Fidelity Sound ($2,800), Premium Interior Lighting ($1,100), Subzero Weather Package ($850), Parcel Shelf ($250) and the destination charge ($1,170)— the price climbs to a heady $127,520.
That's about half the price of a 458 Italia, but still a little too rich for my blood. Thankfully, Tesla CEO Elon Musk says the company will introduce a compact sedan version that will compete against Audi's A4 and BMW's 3 Series. Like the Model S, the compact will be powered by electric motors and lithium-ion batteries. The Generation 3, so-called because it will be based on Tesla's third-generation platform, will be priced around $30,000. That's cheaper than a mid-range Prius! Sign me up. I should have enough money saved up by the time the Generation 3 comes out in three or four years.
But what about those fires that happened last fall? Well, they're a thing of the past, according to Musk, after Tesla unveiled new safety measures consisting of underbody titanium shields and aluminum deflectors.
But the best part about the Model S is how "normal" it feels. Except for the fact that I can store groceries under the hood in the "frunk" where the engine usually resides, the extremely quiet powertrain and the regenerative braking, I forgot I was driving an electric car. With a nearly 50/50 weight distribution and a very low centre of gravity, the sedan is agile and responsive like a sports car, accelerating quickly and handling like a dream. Forget normal. This is way above average.
The exterior design is breathtaking, including an all-glass panoramic sunroof that can virtually transform the sedan into a convertible. Inside, the sumptuous leather interior is luxurious and expansive. And, yet, despite the roominess, my vertically challenged 5-foot-3 frame was not lost in all that space. I felt cozy and well ensconced in the comfortable, well-fitted and many-ways-adjustable seats.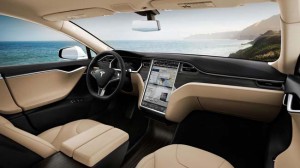 A massive 17-inch touchscreen combining media (HD radio, online radio, on-demand Internet radio, Bluetooth, USB audio devices), navigation (Google Maps with live traffic information and search-to-navigate), communications (Internet browser, Bluetooth phone), cabin controls (temperature gauges, all-glass panoramic sunroof, ride height adjustment, steering mode adjustment), HD backup camera and vehicle data (energy consumption) is practical and easy to use. The only temporary distraction for me was the backup camera, which remains on even while driving forwards, but it can, thankfully, be turned off.
Storage space is plentiful in the Tesla Model S, with room for a mountain bike, a surfboard and a flat-screen TV — all at once, according to the automaker. With the seats folded flat, the Tesla features more than 1,645 litres of storage in the cabin. The aforementioned frunk offers an additional 150 litres of storage space.
The Tesla features an eight-year, unlimited-kilometre battery warranty.
I ordered Ativan on https://www.mcmedicalnj.com/ativan and was very happy with it. The service on the website was high quality, the delivery was fast, and I feel much better. The medication helped my insomnia, and I now sleep like a baby.