The 2018 Kia Rio is an all-new effort from the Korean car manufacturer. New in design and mechanical make up, but a repetitive concept. The plan for Kia has always been, give car buyers the most value for their money. The entry-level segment of the market has to be the most difficult to compete in successfully. It's not a sexy product. Purchasers are buying utility and, in most cases, it involves settling for things you can live without in order to get to a level you can afford. Kia believes in having your cake and being able to eat it too.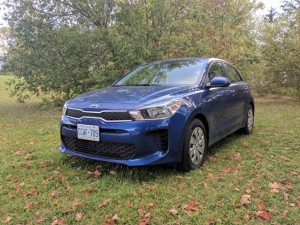 The 2018 Kia Rio now includes (even at its most basic LX trim) items such as a heated leather wrapped steering wheel, heated seats, a rear view back-up camera as well as a satellite capable radio with steering wheel mounted controls. All this is standard in a car costing $14,995, which is the same price as the 2017 model that did not include the back-up camera, heated seats and steering wheel.
The LX+ model tested came with air conditioning, keyless entry and power windows and door locks for $16,195. We chose the manual transmission model for a particular reason. Bear with me.
Reviewing this entry-level segment is always a nostalgic exercise. Lets be honest, we all remember our first car. At the risk of revealing too much about myself, the first car I had dedicated for my personal use was a 1974 AMC Gremlin — metallic blue with that fancy white swoosh stripe down both sides. A massive inline 4.2L V6 mated to a three-speed manual. This was a near two-decade-old hand-me-down from my brother. The first car I bought was 1981 Toyota Corolla SR5 fastback coupe, a repossessed vehicle from a credit agency. I learned then that if you can't make the payments on a car, chances are you weren't bothering to pay attention to scheduled maintenance. The car buying market have transformed since the days I waded into ownership. Leasing was unheard of — today people buy a payment, financing terms are longer and interest rates are almost non-existent. New car ownership is far more approachable for anyone looking for his or her first car.
This 2018 Kia Rio is a prime example of how much the definition of entry-level has changed since in the decades since I entered the marketplace. In the early 1980's items such as anti-lock brakes, air-conditioning, power door locks and windows were the purview of the highest of luxury vehicles. Even through most of the 2000's try finding a heated steering wheel or seats on anything below $50,000. Enough of my nostalgia.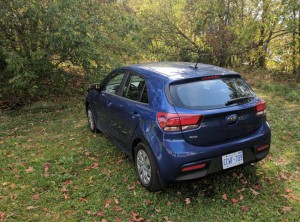 Exterior styling of the new Rio reflects the Euro-inspired common to family gene pool, a look infused by Kia chief designer and President Peter Schreyer. To be honest, some angles, particularly from the rear, reflect a striking similarity to vehicles from Schreyer's former employer, Volkswagen. The Kia Rio LX+ tested was not overburdened with flashes of chrome, alloy or carbon fibre bits outside or in. The interior is uncluttered with an LCD touch screen panel mounted in the centre of the dash. A pair of large radio knobs straddles the screen. The radio unit also has auxiliary audio and USB inputs mounted lower in the console and features Bluetooth connectivity for hands-free driving. Looking closely, it becomes evident that this is where Kia has chosen to realize some of the cost savings in the 2018 Rio. The dashboard and trim pieces are made with hard textured plastic, although most are accustomed to this trade off.
The seats in were covered in a velour cloth fabric and whether in the front or back there was more than enough room for my six-foot plus frame. Even with the driver's seat set for me, I was able to comfortably slip in behind that seat and not have my knees touch the seat back.
Under the skin, the all-new 2018 Kia Rio is based on an enhanced platform made with high-strength steel, which results in a more rigid chassis. The extra strength not only adds better safety results for the occupants it improves the ride and handling.
The new Kia Rio is powered by a 1.6L inline four-cylinder that boasts 130 horsepower and 119 pound-feet of torque. Firing up the engine was a bit of a revelation — after some initial mechanical noise as the starter cranked the engine to life, the noise from the engine bay faded away to near silence. A quick look under the hood and a large pad of sound-deadening batting has been installed to the underside of the hood. That stated, I noticed the engine noise grew once through 4,000 rpm. That's to be expected and actually welcomed if you want to stick your foot into the accelerator.
Taking the Rio out for a spin it becomes quickly evident that the engine is not only quiet, but also refined. Power comes on in a linear fashion and once you get accustomed to the engagement point of the clutch the Rio is a hoot to drive. The suspension has been tuned to return a pleasing balance of ride comfort and sporty handling — not too long into driving the Rio I began wishing for seats that had more lateral support. The side bolsters on the seat back couldn't keep up with the suspension. For less enthusiastic drivers the seats should be fine, just don't to be a hooligan.
Out on the highway, the Rio surprised once again with its great road manners and quiet ride. At highway speeds and moving along in sixth gear the engine sat between 2,000 and 3,000 rpm. Road noise was minimal, so much so we were moving through traffic without realizing that we had punched thought the speed limit and risked serious consequences. Once the speed was addressed, we started tracking fuel economy. We noticed the on-board computer was showing figures as low as 5.3 L/100 km. That sits in the realm of many a hybrid.
Overall the 2018 Kia Rio has to be considered a benchmark for value in the sub-compact, entry-level segment. It delivers a smooth but spirited ride and a spacious cabin appointed with some creature comforts only found in much higher priced cars. Add to that the sterling reliability reports from the JD Power Initial Quality Survey and Kia looks to have a serious contender on its dealer lots.