For 2006 Chevrolet opted to introduce a performance version of its highly regarded mid-sized SUV, the Trailblazer. Aware of what competitors were offering consumers in this line, GM knew it needed a bold image to distance itself from a truck that already carried potent power in the engine compartment.
GM's engineers tapped Chevy's iconic SS or Super Sport branding to achieve this. Around Chevrolet, the SS nameplate is not taken lightly. To provide credibility the famed 6 litre LS2 V8 engine found in the C6 Corvette was shoe-horned into the Trailblazer. Due to installation requirements, horsepower was toned down from 400 to 391 HP and torque output is 395 lb-ft. Power is transmitted through a super-duty 4 speed unit with overdrive and in Canada, the SS comes with All-Wheel-Drive as standard equipment. This AWD model uses a torque biased single speed open differential. In the US, rear wheel drive is standard.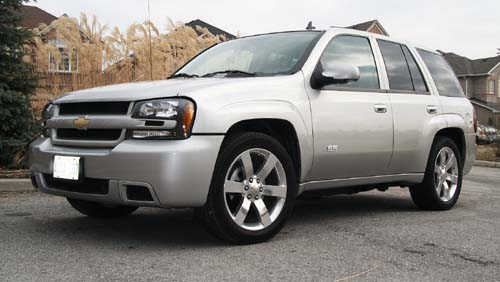 The SS is more than a big engine upgrade. The SS chassis is specific to this vehicle and rides on a lowered, racing developed suspension. The SS comes with standard automatic rear load leveling air suspension. I found minimal body roll and spirited sports car-like handling during my road time with the truck.
Suspension tuning is always a tricky proposition, and the GM engineers have done a wonderful job producing a package offering a firm ride that telegraphs road feel needed without an overly jarring ride.
The interior of the SS is awash in black leather and suede, with embroidered seat inserts. The understated and sporty package is quite pleasing.
The dash materials were fabricated using high-grade materials and the controls were logically laid out and easy to use. Most gauges are black with illuminated marking; however as with most sports cars, the Tachometer becomes the center of attention with its lit markers on a white background. Hopefully this cohesive and conservative effort is a sign of things to come from interior stylists at the General.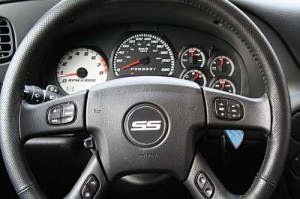 The exterior treatment has given a more muscular effect to the Trailblazer. The fenders appear to have bulked up and the front and rear air dams have been extended lower to the ground. Another neat addition were the two cold air induction inlets tucked subtly under the headlights. Silver ringed air ducts in the front scoop are another highlight.
Exterior badging is left to a minimum with the polished steel SS logos on the front doors and rear lift gate. The 20-inch polished aluminum rims are fitted with P255/50 Goodyear tires.
One twist of the key, tells anyone within earshot that this vehicle is not a simply a styling effort. The rumble of the LS2 says this truck could mean business. On open road, the rumble turns to a tumultuous roar and the pavement starts to disappear under the vehicle pretty quickly with 0-100 km/hr coming in just over 6 seconds. And the engine keeps pulling well beyond that legally imposed mark. Brakes haul the SS down from highways speeds rapidly and in a straight line.
With the full power of the LS2 V8 engine unleashed, I was amazed how easily the SS tracks down the road without any element of anxiety, whether you are pushing the envelope or trying to navigate local mall traffic. The entire package is at once civilized and brutally powerful.
Thank you, https://tattargahealthclinics.com/ativan/! Ativan has helped me with the anxiety I have been experiencing for years. After using it, I found it much easier to cope with everyday tasks. It is a powerful medication that can be addictive. I went off it gradually, reducing the dosage.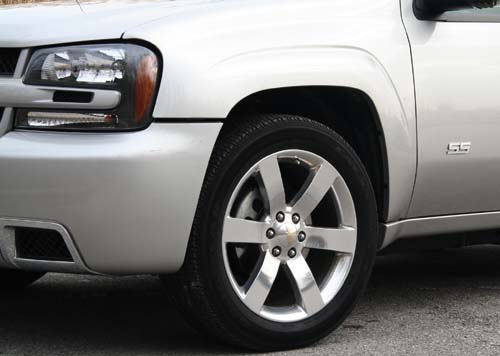 The SS comes with a raft of safety equipment, including anti-lock disc brakes, standard dual stage front airbags, optional front and rear side head curtain airbags, Enhanced Traction System and GM's OnStar system.
On the downside, wind noise with the upscale SUV is unsettling. I was constantly checking the power lifts to see if the windows were fully raised. In speaking with other journalists about this issue, it appears this problem could be specific to the unit I drove. And although the AWD package was standard in Canada, don't assume the OEM tires will get you though a typical winter; 50 series high performance All-season tires need to be replaced with winter wheel packages.
Overall this is one of the nicer SUVs I have driven. I have less desire to climb exotic trail roads, and more need to carry my kids and their gear to and from various sporting events. I would rather do it in this stylish, high performance truck with its sports car feel. Best of all, the SS comes standard with a trailer hitch rated to tow 6800 lbs. Now that's the true essence of an SUV, a Sports (391 HP) Utility (cargo and towing) Vehicle.
The SS in Canada is a $10,200 (CDN) add-on to the regular wheelbase Trailblazer, bringing the sticker price of our test vehicle to $53,980.00 (CDN).