Porto Cervo is a small village on the Italian island of Sardinia. It is also Europe's, and quite possibly the Worlds, most exclusive resort community. Porto Cervo is the kind of place where multi-million dollar yachts are the norm and the average price per sq ft is $132,832 CAD, according to luxury real estate brokerage Engel & Volkers. It's a place where the top 1% of the 1% flock for a relaxing vacation in the Sun. So what better place is there for Roll Royce Motor Cars Summer Studio to be, and for the automaker to show off the newest and best of a Marque known for building some of the world's most luxurious cars.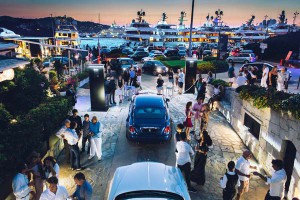 Once again, Rolls Royce Motor Cars will open their Summer Studio this June and host visitors until September. This will allow the most discerning of luxury car buyers to experience the new Rolls Royce Dawn Drop Head coupe; a car that quite possibly encapsulates Porto Cervo better than any other could.
By day, guests are able to meander the beautiful winding roads of the Italian island in a car fit for the wealthiest of Europe's elite. The new $326,000 USD Rolls Royce Dawn has the standard 6.6L, twin turbo V-12, making 563hp and 575lb-ft. The coupe weighs 5750lbs, so don't look for it to be running with super cars, but that's not the point of this car. This is a car you are meant to cruise the Mediterranean coast highways in, with the top down soaking in the Italian Sun. It's also meant to be seen in. Which is why this car suits Porto Cervo so well. Just like the village, its a place to enjoy the Mediterranean summer and also a place to show just how important you are. Just by being in either, means you are a "somebody".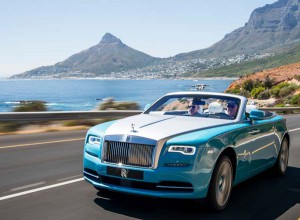 After a day of touring in the Rolls Royce Dawn, guests are invited to exclusive gatherings in the company of fellow connoisseurs of true luxury. Torsten Müller-Ötvös, Chief Executive Officer, Rolls-Royce Motor Cars, commented, "Connoisseurs of true luxury are seeking an unforgettable experience in their pursuit of perfection. Rolls-Royce understands this as one of the tenets of true luxury and offers to enrich the lives of our customers and acquaintances by hosting a summer-long Rolls-Royce Studio in one of the most social enclaves in the Mediterranean. The worlds of fashion, art and design collide to create an ambient atmosphere which embodies the spirit of Rolls-Royce." The Rolls Royce Summer Studio in Porto Cervo will be open between June and September 2016, by appointment only. If you have pockets deep enough, contact Rolls Royce at portocervostudio@rolls-roycemotorcars.com