The 2016 Le Mans 24 hour endurance race was one people will be talking about for years to come.
After more than a decade of dominance by Audi, last years resurgence of Porsche and its win at the storied Circuit de la Sarthe track, hope sprang eternal for all three of the major competitors, Audi, Porsche and Toyota.
Since 1999, the marathon race at Le Mans has been dominated by one manufacturer, Audi. They won their first championship in a gasoline powered car, called the R8, a name subsequently adopted for their marquee consumer sports car offering. They later introduced diesel fuel to the sport by racing with their TDI technology. Audi then escalated to diesel hybrid technology with the introduction of the R18 E-Tron, and became the first hybrid race car to win the Le Mans race. Heading into this year's contest, Porsche led all manufacturers with 17 wins in its history. Audi had won 14 of the last 17 races and managed to be on the podium for all 17 events it participated in. Toyota was a relative newcomer but had no wins in its 5 years of competing.
In an effort to level the playing field, the WEC (World Endurance Championship) the governing body of the sport, has been keenly sharpening its pencil to amend the rule book each year. The term for all these regulatory rules is Balance of Performance or BOP as most racing fans sneeringly refer to the concept.
There isn't one specification that applies across the board. For example, all three top level LMP1 teams are now using turbo-charged combustion engines, driving the rear wheels, with electric hybrid motors powering the front wheels. The regulations stipulate that your fuel consumption must be regulated by how much power you recover on the electrical system as well as whether you are using gasoline or diesel. Based on the lap length of the Le Mans track, regulators set a limit of 8 mega joules of recovered energy (which Toyota and Porsche utilize), allowing cars to use 4.21 litres if gasoline but only 3.33 litres of diesel fuel. Audi chose to use a 6MJ recovery system in order to presumably get a higher fuel allowance.
Without any limitation on how much fuel the Audi R18 E-Tron is allowed to consume, few would argue that Audi would have gone on winning, eventually uncontested as other companies would have no desire to drop the money required to field a team with minimal chance of victory.
Regardless on how you perceive regulations, the racing would likely have lost some appeal if Audi had continued winning year after year. With fan interaction and interest, marketing departments can justify the massive expense to keep the brand's name out in front of the fans. Any automaker enters sponsored racing to further its engineering reputation and naturally, to further its brand image, especially if you have performance cars to sell.
Audi has made much of the TDI performance identity and also its Quattro all wheel drive technology.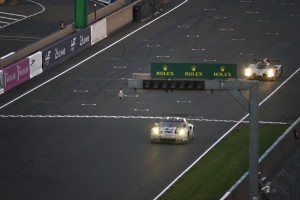 I recall talking to engineers at a 30 year Quattro Anniversary event in 2011, about a variation of their Quattro system, one that used electric motors at two wheels and no need for the added weight of a transfer case and long drive shaft. The engineer discussed how they planned to bring it to production cars. At the time there was no mention of it being adapted to the racing program. This year, Audi will finally bring a diesel hybrid vehicle to market, when the Q7 E-Tron goes on sale in Europe. The drivetrain will be more conventional however with the electric motor being integrated into an 8-speed Tiptronic transmission.
As for this year's contest, it boiled down to a two way contest between the smaller engined, larger electric motor combination used by Toyota and Porsche, with Audi finding a couple technical glitches that cost them multiple laps of pit time repairs.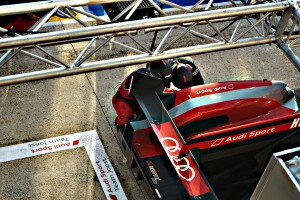 With mere minutes to go, Toyota's lead car experienced an electrical glitch dying on the main straight in front of the main grandstand and within view of its team's pit garage. The hiccup allowed Porsche to claim its second consecutive win, Toyota settled for second place. Audi claimed its 18th consecutive podium finish.