The all new 2017 Chrysler Pacifica minivan has been unveiled at the 2016 Detroit Auto Show and is a bit of a surprise. The vehicle is built on an all new platform that is longer and wider than the current Chrysler minivan offerings. The all new design recycles a familiar name. The first Chrysler Pacifica, introduced in 2003, was the original crossover vehicle offered in North America.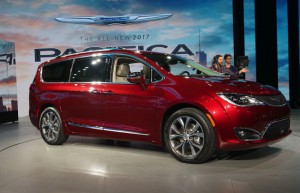 The larger footprint of the new 2017 Chrysler Pacifica has allowed the vehicle designers to expand the seating capacity from 7 in the current minivan, to a segment leading 8 passenger capacity. The vehicle maintains Chrysler's proprietary "Stow N Go" seating for the two rear rows of seating in most models.
The Pacifica will be offered with two engine options. The mainstream offering will be a 287 HP, 3.6L V6 engine mated to a nine-speed automatic transmission. The 2017 Chrysler Pacifica will also be offered as a front wheel or all-wheel drive model. The new platform is reportedly 30 percent stiffer. When combined with an upgraded suspension, drivers can expect an improved driving experience.
A hybrid version of the 2017 Chrysler Pacifica will also be offered and becomes the first plug-in hybrid minivan to come to market in North America. The drive-train utilizes the 3.6L V6, but adds a CVT (continuously variable transmission) and a 16 kilowatt/hour Li-on battery. The package reportedly permits 80 kms (50 miles) of electric-only driving. Engineers report that the Hybrid package returns fuel economy in the range of 2.94 litres per 100 kms.
The gas powered 2017 Chrysler Pacifica should be available in dealer showrooms sometime in the Fall of 2016 while the Hybrid model will be available sometime in 2017. The Pacifica will initially be sold alongside the existing Dodge Grand Caravan. One can only expect that the new 2017 Chrysler Pacifica will be sold as a premium upgrade over the existing minivan. The new 2017 Chrysler Pacifica will also be produced at the FCA Canada plant in Windsor, Ontario.