The 2015 Audi TT has been unveiled at the 2014 Geneva Auto Show.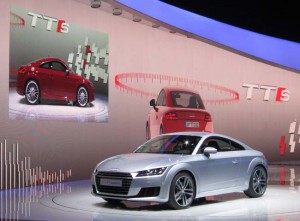 Virtually identical in exterior size and height to the previous model, the TT wheelbase has been lengthened by 37 mm. The resulting shortened overhangs give the new TT a slightly more aggressive look. The vehicle maintains a similar profile to the outgoing model but the front end has been sharpened with a more angular design across the headlight panel. While Zenon hi-intensity lamps are standard, Audi has made available their LED Matrix headlight technology for improved illumination. The single frame front grille has been broadened and is flatter than before. The Audi 4 ring logo has been relocated to the hood, giving the grille a cleaner appearance.
In addition to the aggressive front end, the interior revisions mark a substantial upgrade. Audi has installed its virtual cockpit for the first time. A 12.3 inch LCD display sit behind the steering wheel and replaces the typical gauges found in normal analogue binnacle, as well as the Multi Media Interface display normally found on the dash. The virtual cockpit also includes the vehicle GPS system with available Google maps overlay. The system is customizable to display as much or as little as the driver wants. To fully remove dash clutter, Audi has ingeniously moved the remaining ventilation controls to the actual vents. The resulting dash board landscape is a benchmark of simplicity and elegance.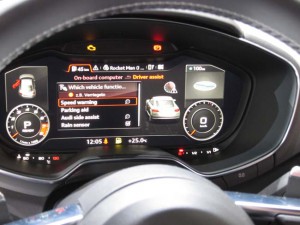 Audi revealed 2 production models of the TT. A base model will offer a 2.0L TFSI four cylinder turbo charged engine producing 230 HP and 272 lb-ft of torque. In Europe, the base vehicle will be offered as a front-wheel drive model, while Quattro all-wheel drive is optional. Vehicles are equipped with either a six speed manual or a 6 speed S-tronic dual-clutch gearbox. From past experience North American buyers will likely only be offered the higher priced Quattro drive, S-Tronic equipped models. One benefit is that this combination requires only 5.3 seconds to hit the 100 kms/hr mark, almost a full second faster than the manual gearbox, front wheel drive version.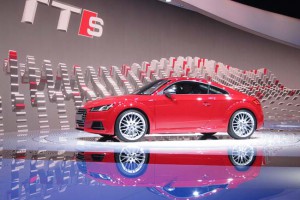 A higher performance TT-S model also debuted with a high output 2.0L TFSI engine producing 310 HP. The extra power translates into 0-100 kms/hr times of 4.7 seconds. The TT-S is easily identified by four oval stainless steel tailpipes as opposed to the two found on a regular TT.
Chassis improvements include magnetic ride suspension and a new hybrid structure with new lightweight aluminum and high strength steel. The search for weight savings was not limited to the body or engine. The new seats in this latest TT are reportedly 5 kilos lighter than the previous model. Overall, the 2015 base vehicle weighs 50 kilos less than the current 2014 model.
Look for the 2015 TT and TT-S to go on sale later this year.