Highlighting the growing number of hybrid, Electric EV or Hydrogen powered cars coming to market, the 2016 Toronto Auto Show featured a full slate of the industries offerings. On display were:
Acura RLX Sport Hybrid
The 2016 RLX Sport Hybrid is Acura's flagship sedan and is equipped with a suite of advanced technology features. The direct-injected i-VTEC V6 engine and three electric motors are designed to achieve power and performance without sacrificing fuel efficiency. Acura expects fuel economy over 100kms of 8.0 City/ 7.5 Highway /7.7 litres combined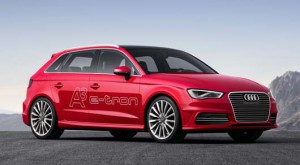 Audi A3 e-tron
The 2016 Audi A3 e-tron is a plug-in hybrid electric vehicle that blends the typical Audi attributes of luxury and performance with the efficiency of a hybrid. The Audi A3 e-tron comes in the much loved hatchback body style and will provide 50 kms of range solely on electric power and up to 890 km running on its 1.4L TFSI gasoline engine power or a combination of the two. The electric motor delivers 243 lb-ft of torque. The combined electric and gas engine power train, delivers an impressive 204 hp. The hybrid power train delivers a top speed of 222 km/h (130 on purely electric power), and a zero-to-100 kms/hr time of 7.3 seconds. Audi lists a fuel consumption rating of up to 1.5 L/100 kms.
Audi H-Tron
A Canadian debut at the Canadian International Auto Show. Audi showed its H-Tron Quattro Concept at its auto show opening press conference. The vehicle features an electric power train powered by a highly efficient hydrogen fuel cell, brake regeneration and even solar energy cells on the roof. The H-Tron has a range of up to 600 kms and can be fully refueled with hydrogen in around four minutes. Sadly, regular show goers will not have the privilege of seeing this vehicle as it was only presented to the media before being shipped back to Germany.
BMW i3
BMW's new i division caters to the entry level market with the i3. The electric motor provides 125 kW/170 horsepower, with torque of 250 Nm. It can accelerate from zero to 100 km/hr in only 7.2 seconds (or 7.9 seconds in the model with Range Extender). The on-board battery can fully charge in about 15 hours. Using the optionally available BMW iCharging Station charge times can be reduced to under three hours (to 80% capacity. The i3 has a range of up to 160 km of fully electric driving, but with the gasoline powered Range Extender, range grows to 340 kms in the most frugal of driving styles.
BMW i8
The BMW i8 is being billed as a performance hybrid. Its variation of electric propulsion and combustion engine combines to combine to accelerate the BMW i8 from zero to 100 km/h in 4.4 seconds. The 131-horsepower electric motor, is located on the front axle. The rear axle is powered by a 1.5L 3-cylinder, turbocharged gasoline engine producing 231 horsepower and up to 236 lb-ft of torque. BMW lists fuel consumption of just 2.1 L per 100 km. For all the technical and performance exploits listed, the BMW i8 garners the most attention for its futuristic body design.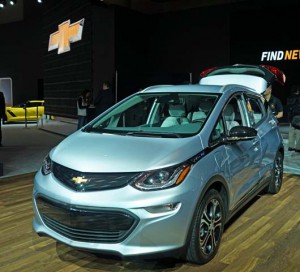 Chevrolet Bolt EV
The 2017 Chevrolet Bolt EV finally delivers on Chevrolet's promise to offer long-range, affordable electric transportation for the masses. When the Chevy Bolt EV goes into production towards the end of 2016, the Bolt EV will offer up to 320 kilometres of range on a single charge. A figure that far surpasses any other EV's in its class or price range. Buyers can also expect a full suite of on board mobility apps and software to maximize car sharing and traffic avoidance. GM is currently advising the Chevrolet Bolt EV will accelerate from 0-96 km/h in less than seven seconds. before all the government incentives GM is aiming to bring the Bolt EV to market with a target price of around $30,000 USD
Chevrolet Malibu Hybrid
The 2016 Malibu is new from the ground up, with a longer wheelbase for greater comfort, while still managing to be 136 kg (300 lbs) lighter than its predecessor for improved driving feel and fuel economy. The 2016 Malibu reaches an exceptional level of fuel efficiency with an all-new hybrid power train that uses technology from the Chevrolet Volt. The hybrid helps offer a GM-estimated 4.9 L/100 km city, 5.2 L/100 km highway.
Chevrolet Volt
The re-designed 2016 Chevrolet Volt offers extended range—up to 80 kilometres of electric only driving—greater efficiency and stronger acceleration. The new two motor drive unit is up to 12 percent more efficient and 45 kg (100 lbs) lighter than the first-generation drive unit. One benefit of the weight loss is a 19 percent improvement in zero-to-48 km/h acceleration. The Volt's technology and range advancements are complemented by a fresh new design with aerodynamic improvements.
Chrysler Pacifica Hybrid
The Canadian debut of the 2017 Chrysler Pacifica Hybrid, the first electrified minivan available for sale. Built in Windsor, Ontario, the Pacifica is expected to have an electric–only range of up to 50 kilometres. Chrysler promises a fuel economy rating of 2.9 gasoline litres equivalent per 100 kilometres (Le/100 km) or 97 Imperial miles per gallon equivalent (MPGe). Once the on-board battery is depleted, the Chrysler Pacifica Hybrid becomes a part-time electric vehicle, like a conventional hybrid.
Ford C-Max Hybrid
Both the Ford C-MAX Hybrid and Ford C-MAX Energi feature Ford's next-generation power-split technology that enables operation in fully electric mode at higher speeds. Both C-MAX vehicles get their power through the combination of a 2.0-litre Atkinson-cycle four-cylinder gasoline engine and a battery-driven electric motor.
Hyundai Sonata Hybrid
Hyundai will display their all-new Sonata Hybrid and Sonata Plug-in Hybrid—the latest vehicles in the company's Blue Drive line-up. The Sonata features an aerodynamic exterior for improved fuel economy. Hyundai's parallel hybrid power train configuration allows the Sonata Hybrid and Plug-in Hybrid to operate on gasoline, electricity, or both.
Hyundai Tucson Fuel Cell
The Hyundai Tucson Fuel Cell is the first zero-emissions fuel cell electric vehicle available to Canadian customers. Combining hydrogen and oxygen in an electro-chemical process to produce the energy needed to power an electric motor, it refuels with hydrogen gas in less than five minutes, has an estimated range of over 420 km — and its only emission is pure water vapour. With no combustion or moving parts, the fuel cell stack was recognized by Wards Auto World as the first of its kind in the annual Ward's 10 Best Engines list.
Kia Optima Hybrid
The Kia Optima Hybrid utilizes two propulsion systems: an electric traction motor that works with a lithium polymer battery and a 4-cylinder gas engine. The Kia Optima Hybrid can run on electric power or gasoline exclusively, or a blend of both.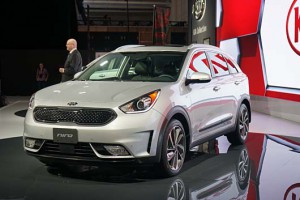 Kia Niro
The Kia Niro represents the brands first first new dedicated eco-car platform. The Kia Niro HUV (Hybrid Utility Vehicle) is powered by a 1.6-litre, four-cylinder Atkinson cycle gasoline engine that produces 103 horsepower, a 43-hp electric motor and a six-speed, dual-clutch transmission. Combined output is 146 hp and 195 lb.-ft. of torque. Kia shows an expected fuel economy of 4.7 L/100 km.
Kia Soul EV
The 2016 Kia Soul EV features a 27-kWh, 360-volt, 192-cell lithium-ion polymer battery provides an official EPA-estimated range of 149 km on a full charge. With the battery hidden under the floor there's minimal intrusion into the cabin, which doesn't penalize interior space. On our recent test drive of the Kia Soul EV, we found the electrical range to be much higher than official figures shown.
Lexus ES 300H
The 2016 Lexus ES 300h represents the electrified version of Lexus' mid-sized sedan offering. The combination of a 2.5L four cylinder gasoline engine and electric drive motor, provides a total of 200Hp that drive the front wheels. Lexus reports fuel economy of 5.8/6.1L per 100kms, based on City/Hwy cycles..
Mercedes-Benz S 550e Sedan
The 2017 Mercedes S 550e is the first plug-in hybrid offered in the S-Class lineup in Canada. The power train consists of a twin turbocharged 3.0L V6 gasoline engine paired with a 114HP electric motor. The S 550e power train provides a total system output of 436 hp and 479 lb-ft. torque and sprints from 0 to 100 km/h in just 5.2 seconds. No information was provided on the fuel consumption rating of the vehicle, make of that what you will.
Mitsubishi I-MiEV ES
A perennial contestant on the list of worst selling cars in Canada, the Mitsubishi i-MiEV is also one of the few all electric vehicles available in the Canadian market. It's 66HP engine coupled to a single speed fixed reduction gear transmission, may be simple and economical, however it is decidedly less advanced than other offerings on the market.
Nissan Leaf
The 2016 Nissan LEAF has been tweaked and now offers a range of up to 172km. A new 24 kWh battery is standard for LEAF SV and LEAF SL models and increases range by 27% over the earlier battery still available in the LEAF S. The Nissan LEAF's new enhanced IT system is more user-friendly and gives drivers greater vehicle connectivity. Parking has been made easier with the Around View Monitor. Using four cameras, the system creates a bird's-eye-view of the LEAF so you can park easily.
Porsche Cayenne S E-Hybrid
The 2016 Porsche Cayenne S E-Hybrid is the evolution of Porsche's first Hybrid effort. The pairing of a supercharged 3.0-litre V6 engine a 97HP electric motor, combine to produce 416 hp and 435 lb/ft of torque. Performance is typical Porsche only requiring 6.0 seconds to run from 0-100 km/h and 3.9 seconds for 80-120 km/h. Fuel economy is rated at 11.3/9.8/10.6 L/100 km city/highway/combined in gasoline mode and 5/5/5.0 Le/100 km in electric mode. The 2016 Porsche Cayenne S E-Hybrid will run for up to 22 kms in pure electric mode. Recharging using a standard charger takes three to four hours but half that with a 7.2-kilowatt charger.
Porsche Panamera S E-Hybrid
The Panamera S E-hybrid power train is essentially the same combination found in the 2016 Porsche Cayenne S E-Hybrid. The 3.0-litre supercharged V6 engine and 97HP electric motor shuttles the Panamera from a standstill to 100 km/h in 6.3 seconds on its way to a top track speed of 259 km/h. The hybrid technology provides for V8 performance while returning fuel economy ratings as low as 3.1 L/100 km.
Subaru Crosstrek Hybrid
The Hybrid Crosstrek offers a 2.0-litre Subaru Boxer engine paired with a 13.4HP electric motor, featuring EV mode, regenerative braking and auto start/stop technology. The Subaru Hybrid Crosstrek has Subaru symmetrical full-time All-Wheel Drive, as well as a Lineartronic CVT (Continuously Variable Transmission) with manual-mode paddle shifters. The Crosstrek is based on Subaru's popular Impreza compact hatchback. The rugged Outback-like enhancements gives it extra off road capabilities.
Tesla Model S
The industry leader in Electric vehicle technology. Focused on performance as much as efficiency, 0-100kms/hr is possible in as little as 3.0 seconds. 400 kms range is possible with a lighter foot. With Tesla's supercharger, half a full charge is possible in as little as 20 minutes. Another benefit of the Tesla experience is that Tesla is actively installing SuperChargers around North American roads allowing for true EV mobility..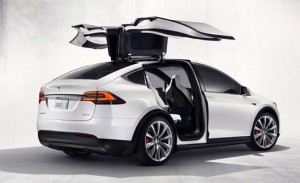 Tesla Model X
The much-anticipated eco-SUV from Tesla is setting new standards in safety and performance. Touted as the safest, fastest and most capable sport utility vehicle ever made, the Model X boasts a 90 kWh battery with more than 400 kilometres of range with seating for seven adults and their gear. And it's fast, going from a stop to 100 kilometres per her hour in four seconds. Pricing still needs to be clarified but it appears you'll shell out anywhere from $100,000 to $140,00 USD to pick one up, depending on how many options you want.
Toyota Prius
The new Prius highlights such improvements as a redesigned exterior and significant technical improvements. The new 1.8-litre VVT-i engine that achieves 40 percent thermal efficiency, improved fuel efficiency. The lighter and smaller hybrid system is paired with a new chassis that delivers impressive driving dynamics. Fuel efficiency increases to an impressive 4.2L/100kms.
Toyota RAV 4 Hybrid
Produced right here in Canada, the all-new 2016 Toyota RAV4 Hybrid features a 2.5-litre four-cylinder gasoline engine paired to an electric motor powering the rear axle. This provides for all-wheel driving. The combined power output of 194 horsepower, is shuttled through a continuously variable transmission. Fuel economy over 100kms is rated at 6.9 city; 7.6 highway; 7.2 combined