The 2024 Audi Q8 e-tron has been introduced as the replacement for the e-tron SUV, first introduced in 2018.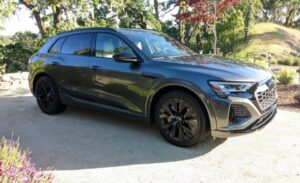 The Q8 etron has received more than a name change. The chassis remains the highly modified, EV adapted version of the Volkswagen MLB Evo platform, created to optimally handle the battery storage and protection without adversely impacting passenger comfort and vehicle dynamics.
The front fascia of the Q8 e-tron has been replaced with a new version of the Audi trapezoidal front grille. A lower, wider grille now runs occupies much of the space between the two front headlights while the frame of the grille runs all the way to the corners of the vehicle. The iconic four rings logo has been redesigned with a 2 dimensional profile of flat plastic, using contrasting colours to highlight the rings. The centre of the rings are solid to highlight the lack of an internal combustion engine that requires airflow for cooling.
The Q8 e-tron drag coefficient has been reduced, which positively affects the vehicle's range. Part of the aerodynamic improvement comes from large air vents on the outer ends of the Q8's front air dam. The sporty looking openings direct airflow around the large SUV to create a less turbulent path forward.
Visually the e-tron differs in appearance to other Q8 SUV's such as the SQ8 or firebreathing RS Q8. Representatives at Audi explained that the main reason to rebrand the vehicle was to reflect the top of range status of this large SUV as more e-tron models get introduced to the Audi lineup. A new feature coming to all Audi's but introduced on the Q8 e-tron, is the model identifier now being laser etched on the B-pillar between the doors.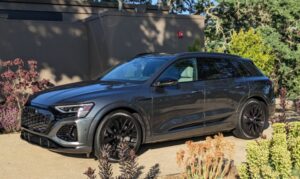 The Q8 e-tron is available as either an SUV or Sportback model. The aero profile of the Sportback is slightly better than the SUV which should improve range. Naturally, the tapered profile of the Sportback comes with the compromise of reduced storage volume.
The battery onboard has been improved through technological advancements in battery structure and production technology. The lithium-ion battery capacity has now been increased to 114 kWh.
The theoretical range on the 2024 Audi Q8 e-tron is listed as 482 kms. Onboard charging is possible by level 1 or 2 plugs or DC fast charging ports onboard. The Q8 e-tron can be ordered with charging ports on both sides of the vehicle for flexibility when looking for public charging.
The full breakdown of the road test of 2024 Audi Q8 e-tron will come shortly after the embargo on driving impressions gets lifted, till then stay tuned. The 2024 Audi Q8 e-tron is now available for purchase at local dealers.