The 2017 Audi R8 Spyder had its official unveiling at the 2016 New York International Auto Show.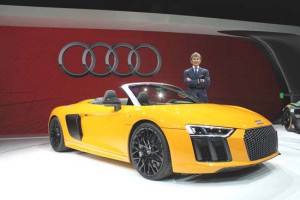 With the hardtop coupe expected to go on sale next month and summer just around the corner, there couldn't be a more perfect time to dream about a convertible super car.
The droptop Audi R8 shown in New York features the coupe's famed 540HP 4.2L V8 engine. Audi promises acceleration of 3.5 seconds from zero to 100 kms per hour. Top speed is reportedly flirting with the 200 mile per hour speed barrier. Acura claims a top speed of 197 MPH or 318 kms per hour. For a purely visceral perspective, I cannot imagine open air driving at that speed much less the sound that would impart to the cabin.
Under the sculpted body work, Audi has fitted the Spyder with the same Sportronic S transmission and the same legendary Quattro All-Wheel Drive system found in the Coupe. A folding soft top un-hooks from the windshield frame and tucks itself away behind the cockpit, all in less than 20 seconds and at speeds of up to 50 kilometres per hour.
Audi claims engineers have imparted refined driving manners on the new Spyder by making the vehicle 15% lighter than the previous model combined with an Aluminum Space frame that is 50% more rigid than the one it replaces.
Audi reminds that the R8 reflects is passion for motor sports and claims that almost 50% of the parts found on the street version of the R8 can also be found on its LMS race car.
A new Driving Dynamics Control fitted in the new Audi R8 Spyder, has incorporated additional driving modes; dry, wet and snow modes dial in different friction parameters for the onboard computers to parse, all in an effort to maximize performance and safety.
The 2017 Audi R8 Spyder will be in dealer showrooms prior to the summer of 2016. No firm pricing has been announced but expect prices to be slightly more than the previous R8 Spyder model. No further word has been made about additional engine choices including the 610HP V10 Plus model or a suspected twin turbo V6 engine.