Nestled in far Eastern corner of Austrian Alps adjoining Italy and Slovenia sits Lake Wörthersee. A large glacial fed lake that defies logic in being the warmest body of water in Austria. A haven for the wealthiest of Austrians and Germans, every spring the small town of Reifnitz hosts an annual automotive love-in for fans of the Volkswagen GTI. Over the years the event has grown and eventually attracted the attention of Volkswagen. The VW group has had a corporate presence for the past 8 years. Both Volkswagen and Audi set up displays at the event and had tantalizing concepts to show.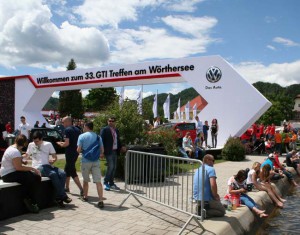 Audi revealed their A3 clubsport quattro, a high performance coupe based on the latest A3 platform. Powering the dramatic concept is a familiar power-plant to fans of Audi's performance history, the 2.5L inline 5 cylinder engine. [ad name="Content Left- Rod Cleaver"]In the A3 clubsport quattro, power output is rated at 525 HP and 442 lb-ft of torque. The engine is paired to a seven-speed S tronic transmission with a compact three-shaft layout. Its tall seventh gear ratio reduces fuel consumption.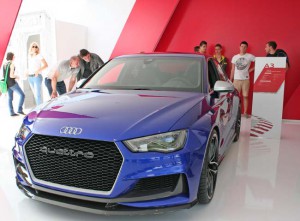 According to Audi's engineering department, "the heart of the quattro all-wheel drive system is a hydraulically activated, multi-plate clutch on the rear axle that has been specially designed for the high torque of the powerful five-cylinder. Like the engine management system, its electronic controller is integrated into the Audi drive select driving dynamics system and takes the combination of "fun to drive" and safety to a whole new level." The clutch will also transfer torque between the front and rear axles depending when needed during cornering. With an estimated top speed of 250 kms/hr high performance braking is necessary and Audi does not disappoint. High speed braking in the Audi A3 clubsport quattro concept deploys an electrohydraulic controlled rear spoiler that converts to an upright air brake. The vertical braking system reduces the stopping distance by around 12 meters (39.4 ft) The increased down-force on the rear axle permits the application of more braking force.
Audi also revealed an interesting option for its Q5 SUV. Have a look at this tent that converts your premium SUV to a pseudo camper van.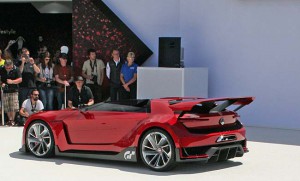 Volkswagen revealed its Volkswagen GTI Roadster, Vision Gran Turismo. While Gran Turismo normally refers to a class of high speed cruiser, in this case it references the Sony video game. This show car was designed and built as tangible example of a virtual reveal for game Gran Turismo 6. The vehicle will never be built, it is only available for download. That being said, the real live sheet metal example was fitted with a 503 HP, 491 lb-ft, twin-turbo V6 cylinder engine, paired with a 7 speed dual-clutch transmission. All that power is transferred to the virtual pavement through VW's 4motion all wheel drive system.
I wonder if VW would sell me one for some virtual bitcoins?