If at first you don't succeed, try again. And that's what Hyundai is doing as it takes a serious run at the upscale premium car market in North America. The introduction of its 2006 Azera is an effort to overcome the shortcomings in style and execution of the XG300 and XG350. Hyundai has infused enough charm in the Azera to warrant a closer look at this new entry into the premium auto segment.
Firstly, there is the styling. From all angles this bodywork is a marked improvement over the Pan-Pacific luxury styling of the XG series. The mainstream styling is handsome and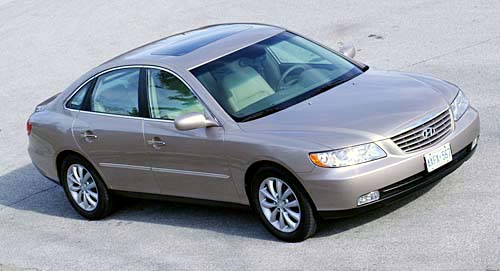 well proportioned; from the integrated projector beam headlights back to the subtle BMW inspired "Bangle treatment" of the trunk.
Our test model was listed at $37,000 and came with a long list of features including, rain sensing wipers, a power rear sunshade, heated leather seats, 8-speaker multi-disc CD audio system and a power moon roof.
The overall appearance of the interior was attractive, from the tan leather seating to the dashboard with a coloured plastic front panel with integrated dark brown faux wood inlaid throughout the cabin to blend with the gold exterior finish.
From the nicely padded and supportive driver's seat, the Azera's controls fell easily to hand. The armrests, molded into the door panels, are sloped downward leaving your left arm to rest naturally at the window and door lock controls. The buttons and switchgear have a rich and upscale feel to them. Both front windows have automatic full up and down cycles.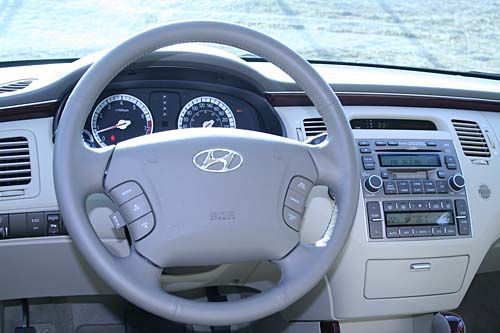 Driving with a friend who owns a previous generation Lexus ES, he commented that the interior was comparable in quality and execution to his sedan. He was also impressed with the rear power sunshade, which was similar to the one fitted in his older model Mercedes S-class.
Hyundai's advertising for the Azera claims the size of the passenger cabin is more than a BMW 740. Without getting out a tape measure, there is ample legroom both front and back in this vehicle. Five adults should have no problem sticking it out in the back seat for any journey. Trunk space is also impressive, however, the opening of the pass-through is made smaller by the integration of the trunk lid into the rear clip. Still, there's enough room for a few sets of golf clubs back there.
Azera is powered by Hyundai's new 3.8L V6 which produces a healthy 263 HP. This engine is significantly different from others in that it utilizes a timing chain instead of the typical rubber timing belt found in most cars. If you plan on keeping this car in excess of 130,000 kilometers, you should realize a windfall in maintenance savings because you won't have to replace it. That can cost $1000 or more.
I bought it and it really helped to remove the panic attack well at first, but often I could not drink it, as it is addictive. In general, I stopped taking it. And then recently I felt bad again and I couldn't sleep, I decided to take half xanax 1mg a pill. At first, I felt better and I wanted to sleep. I went to bed and I began to have an extrasystole and it got bad.
The all-aluminum engine is mated to a 5-speed automatic transmission. The entire power-train is a smooth and powerful package. At no point did the Azera feel underpowered and even surprised with a few neck snapping launches from stop lights. The transmission shifter features a manual shifting slot to control up and down automatic shifts.
The suspension is a standard Macpherson strut layout upfront with a multi link suspension in back. The ride quality is quite good and is one of the better compromises of plush ride and responsive handling that I have driven recently.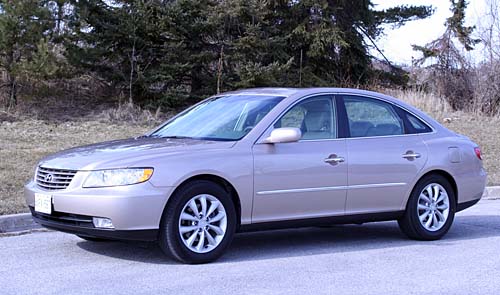 In addition to stability and traction control, multiple safety features include active headrests, eight airbags (including two rear side and two side curtain airbags), and 4-wheel anti-lock disc brakes with electronic brake distribution. The Azera also received the highest rating from the Insurance Institute for Highway Safety for an offset frontal impact, regarded as more suitable test of a vehicle's ability to protect its occupants than a simple head-on impact.
At a base sticker of $34,495, Hyundai has priced the Azera to go up against some established models ranging from domestic sedans to the import luxury brands. Pricing places the Azera higher than most of the intended domestic targets, however, an apples to apples comparison shows on paper that it comes with more features and horsepower than the lower priced models. The clear message is that Hyundai no longer wants to be the cheapest in the market but should be recognized by value instead.
Given the awards this vehicle has garnered since its introduction, including the prestigious AJAC award for best new luxury vehicle over $35,000 in their 2005 awards. Hyundai appears to have a winner.