Life is simple as a kid. Wake up, eat, school, homework, play, and repeat. As kids our summer vacations were spent on Dad's farm – picking and packing fruit. It wasn't my favourite pastime. Thankfully, there was relief from my oldest sister, Marianne. Every year, she'd take a road trip with her hubby and young kids. And she'd always take my other sister, Josie, and I along for the ride. Sure, we were cheap labour – babysitters so the adults could play. But there were no complaints. It was a welcome reprieve from hard labour on the farm.
We'd venture near and far – one of our favourite road trips was an 18-hour drive from Hamilton, Ontario to Myrtle Beach, South Carolina. We'd pack her station wagon to the rim – one year the gas attendant remarked "You've got everything in there, but the kitchen sink!" The joke was on him. Buried beneath strollers, heaps of toys, sleeping bags, luggage, and food was my niece's mini toy kitchen sink.
When university hit, friends came first, family second. The family road trip eventually died. Thankfully, it was resurrected again for Auto Reviews Online. After more than two decades, my sisters, niece, and I hit the road together for a girl's road trip. Our destination: Erie, Pennsylvania – an incredible vacation spot for empty nesters and young families alike.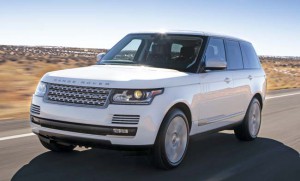 How to get there?
We hit the road in luxury driving a 2014 Range Rover Supercharged SUV ($114,990). Erie is Pennsylvania's fourth largest city and the only Pennsylvania Port on the Great Lakes. It's in the north-western part of the state — within 500 miles of more than half of the US and easily accessible by car, boat, plane, train, or bus. But as a car girl, I always prefer to drive. It's only a 4-hour ride from Toronto, Ontario. But it took longer because the navigation system directed us along the milk-carton route to avoid the tolls. We couldn't figure out how to change it so we just enjoyed the ride. It added an extra 30 minutes, but the drive was beautiful, winding through tiny, picturesque American towns.
Where to Stay?
Erie has more than 4,000 hotel rooms up for grabs. One of my favourite places to stay is the Sheraton Erie Bayfront hotel. It's the first waterfront hotel located in Erie's hip Bayfront marina district. With breathtaking views of Lake Erie's Presque Isle Bay it's the perfect sight to awake to. If you prefer something smaller, a quaint B&B like Boothby Inn, a stellar Victorian mansion along Millionaire's Row in downtown Erie, is another great option. For families who prefer the great outdoors there are cottages and camp sites available, too.
What to do?
1) Check out the FREE festivals! This summer nearly every weekend is filled with festivals and fun for the entire family. And most of the events won't cost you a dime! A must see event for any bike enthusiast is the annual Roar on the Shore (July 16-20) – it's a huge motorcycle rally. Thousands of motorcyclists and their hogs converse in a roaring caravan through the streets of Erie for a huge celebration with food, musical entertainment and more! In the winter, there's plenty to do with holiday performances at the Erie Playhouse, the historic Warner Theatre, Erie Philharmonic and Erie Station Dinner Theatre.



2) Bask in the Great Outdoors. Presque Isle State Park is a stunning 3,200-acre sandy peninsula on Lake Erie. The park forms a lop nearly 21 kms in length – it's perfect for walking, running, biking, swimming, or boating. During the wintertime, you can go ice fishing, ice skating or cross-country skiing along the trails. Presque Isle is a major landmark containing some of Pennsylvania's most endangered, threatened and rare species. You can learn more about them at the nearby Tom Ridge Environmental Center. Be sure to climb the 75-foot glass observation tower for a spectacular view of Lake Erie. It won't cost you a thing to climb up the tower, either.
3) Shop 'til you Drop. Did you know there's no tax on clothing and apparel in Pennsylvania? It's a shop-oholic's dream! Millcreek Mall has more than 150 stores including Macy's and DSW. There are plenty of unique boutiques and trendy stores, too, such as Relish, Inc., owned by sisters Terri and Jennifer. They turned their passion for collecting glass and bottles on the beaches of Lake Erie to a flourishing business. With those materials and recycled items, they make beautifully crafted jewellery, window art, mirrors, and more. At the Erie Art Museum Gift Shop you'll also find unique gifts – funky tote bags, yodeling pickles, art posters, and moustache kits. But I must confess – my best purchase was at Courtyard Wineries. A high-heeled shoe bottle holder ($29.99) with a matching a wine stopper ($12.95) will be a conversation piece at dinner parties for decades!
4) Take a Wine Tour. Nestled along the shores of Pennsylvania's Lake Erie wine country are 23 wineries – 9 in Erie County. Rent a bike or take a trolley tour to learn the fine art of wine-making from grape selection and fermentation to aging and bottling. The newly remodelled South Shore Wine Company with its original stone walls is a must-see. The building is the original home of the first commercial winery in Erie County, established in 1864. Check out the historic tasting room in the stone cavern and cellar while sipping a glass of Gruner Veltliner, a delicious crisp white wine ($15.95). Courtyard Wineries also has a great Barjo Bons ("crazy friends") wine called Chocopelli ($10.95), a fine red wine infused with chocolate.
5) Feast in Amazing Restaurants. The Pufferbelly Restaurant is like no other in the region. It's a 1908 renovated firehouse filled with historic artifacts. The original front entrance, where the pump trucks once pulled out of the station, open onto a patio in the summer. Don't leave without tasting the peanut butter pie – it sounds weird, but it's amazing! The Brewerie at Union Station offers fresh ales and unique appetizers such as beer battered pickles and three onion ale soup. They even have a Trackside Beer Garden where you can drink a pint as the trains go barrelling by. Be sure to savour the local fair for breakfast, too – Welch's jams and jellies have been produced in the region since the 1800s.
Erie makes for a fantastic road trip – you'll find a wealth of natural beauty, history, culture and entertainment activities. It's a great destination for an empty-nester, a family with young kids, or sisters who want to reconnect with their past.