We have all heard about the demise of the hatchback in the U S market. Audi made a point of introducing the all-new A3 as a sedan in order to increase market share in the US market.
Barely one week into sales of the new sedan Audi used the 2014 New York Auto Show to unveil the 2016 Audi A3 TDI Sportback.

The new Sportback will compliment the other A3 TDI in sedan format and be fitted with the same 2.0 L turbo diesel engine producing 150 horsepower and paired with a six-speed S-Tronic dual clutch transmission. Torque figures and fuel economy ratings were not released.
Previously, the only Sport back variant slated for sale in North America, was the E-tron gasoline plug-in electric hybrid. Audi credits customer demand from its core A3 customers with resurrecting the Sportback.
With no official announcement on drivetrains we can only assume that the latest TDI will mimic earlier models and forgo the Quattro All Wheel Drive in favour of Audi's Front-trac front wheel drive system.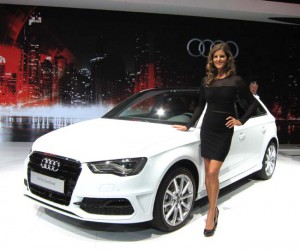 This latest A3 variant adds one more model for Audi dealers to mount a full fledged assault on the luxury compact market in the US and Canada. Expect the A3 TDI Sportback to hit dealer showrooms sometime in 2015. Prices for the Canadian market have yet to be determined