The Chevrolet Malibu holds a special place in my heart. It was my first car – dad bought it for me in high school. It was a big, beige boat, but I adored it. A 1987 Chevy Malibu classic station wagon loaded-to-the-nines with power doors, power windows, leather seats, and a tape deck – a bonus, back then. Parting with the wagon was sweet sorrow. But at least, the Malibu nameplate still lives on – not in a wagon body style, but in a sedan. In 2013, the Malibu was completely revamped. And for 2014, it goes one step further with extra upgrades including updated styling, a new 2.5L engine, and innovative technology to save fuel and reduce tailpipe emissions.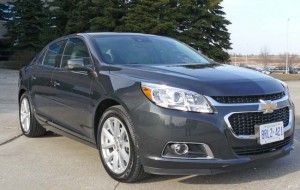 Buyers can choose between two engines on the Malibu. The base is an all-new 2.5-litre DOHC four-cylinder engine, which delivers 196 hp and 186 lb-ft of torque. Mated to the engine is a smooth and refined 6-speed automatic transmission. What's really impressive is the new automatic start/stop technology on the 2.5L engine. It kills the engine when stopped at traffic lights or stop signs to reduce idling and cut gas consumption. The engine automatically restarts again when you take your foot off the brake. At first, it's a bit overwhelming, but you get used to it fast. The transition when the engine restarts is seamless and relatively quiet. It's not jarring and noisy like some systems found in high-end luxury vehicles. And the gas savings add up – officials boast an estimated 5-percent reduction in city gas consumption with the start/stop technology. The official fuel economy numbers are 8.0 L/100km in the city and a frugal 5.3 L/100km on the highway. Overall, the 2.5L engine was smooth and powerful enough to merge with faster-moving vehicles on Canada's busiest highway, the 401, quickly and easily. It felt solid and secure driving from GM's head office in Oshawa to Port Perry, Ontario. It was refined and comfortable with minimal body lean in corners. The steering, however, was a bit loose for my tastes. I prefer a sportier, tighter feel at the wheel.
The other available engine is a 2.0L DOHC turbocharged 4 banger, which delivers 259 horsepower (the same as last year) and 295 lb-ft of torque, which is almost a 14 percent improvement over last year. The result is a boost in off-the-line acceleration – hitting 0-100 km/hr. in less than six seconds.
The Malibu's front fascia gets tweaked with a narrower upper grille and more prominent lower grille. While it's not a drastic design improvement, it now resembles its cousin the Chevy Impala and aligns well with the rest of the Chevy family lineup. Inside, the Malibu is more spacious and comfortable, especially for rear-seat passengers. There's 1.25 inches (31.7 mm) more rear legroom compared to last year's model. The scooped out backrests on the redesigned front seats provide slightly more knee room for rear-riding passengers. Plus, you don't sacrifice comfort in the front seats, either – they're sculpted and supportive, even on long drives. The center console also gets redone with a longer armrest, two cup holders and practical cubbies for smaller items such as cell phones. A manual parking brake replaces the electronic one, which took up more space in the center console. Cool ambient blue lighting appears throughout the cabin on the instrument panel, shifter, front door handles and map pockets, creating a calming effect inside.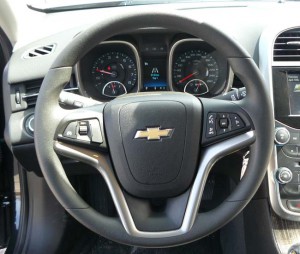 Chevy's MyLink infotainment system takes center stage in the cabin; the system lets you control the entertainment, phone and navigation system via a big touchscreen within the driver's reach. Large redundant buttons and dials below the screen make it easy to find functions such as the volume and HVAC system easily and quickly, even in the dark. On the connectivity front, if you have an Apple product you'll now be able to integrate your iPhone or iPad with the new Siri hands-free system so it can perform many functions such as reading text messages aloud and sending messages.
On the safety front, the Malibu comes with 10 standard air bags and an available rear-view camera system. The Advanced Safety Package now adds extra features such as a blind-spot monitor, which alerts you if someone is in your blind spot and it's unsafe to change lanes and a rear cross traffic alert system, which warns you when backing out of a parking space if someone is approaching from the left or right side of the vehicle. The 2014 Malibu also received top marks from the US Insurance Institute for Highway Safety. The Malibu with available Forward Collision Alert received its highest safety designation, the Top Safety Pick+ label, which means it garnered top marks in crash tests and achieved a basic, advanced or superior rating for frontal crash prevention.
The 2014 Chevy Malibu Canadian pricing starts at $24,995 for the base LS trim. Prices top out at $34,715 for the fully-loaded LTZ trim with a 2LZ package. It goes on sale this fall.