Honda is promising to blend fun-to-drive and practicality in its concept REMIX small sport vehicle.
Unveiled at the recent 2009 Los Angeles Auto Show, the REMIX presents the shape and design of an agile two-seat sports car that can also provide exceptional usage as a daily vehicle.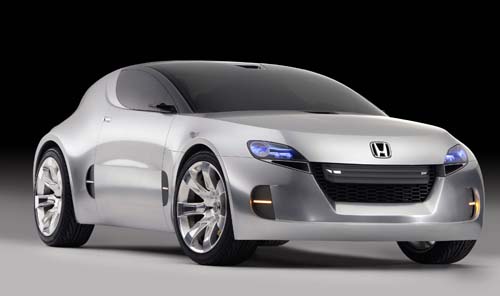 The low-slung REMIX features a wrap-around canopy that brings a fighter jet feel to the driving experience.  The aluminum-color exterior accentuates the vehicle's shape in a geometric and fluid styling. Aside from its overall looks, the rear storage area supplies generous cargo room.
The REMIX concept vehicle focuses on a simple, lightweight and fun-to-drive philosophy that is designed to balance sports car virtues with real-world practicality.
Purely a design concept, the vehicle is fashioned around a front-wheel drive small car platform with a 4-cylinder engine and a 6-speed manual transmission.  A sport suspension, along with aggressive tires and brakes, further supplement its performance side.
"The REMIX blends familiar Honda themes into a new, fresh design," said Ben Davidson, REMIX lead designer for Honda R&D Americas, Inc.