The Audi R8 LMS GT4, was unveiled at a private function prior to the 2017 New York Auto Show.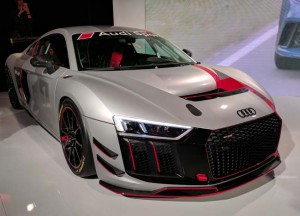 Bridging the gap between the Audi RS3 LMS car and the R8 GT3 race car, the new R8 LMS will be focused on privateers of so called gentleman drivers who finance their own racing pursuits. Details on the finance costs of the program were not disclosed.
In addition to the unveiling of the R8 LMS GT4, Audi of America president Scott Kehoe confirmed that Audi of America will be bringing 6 other R/RS models to the US in addition to the RS5 and RS3 already unveiled. He underlined the public's interest in models that were not previously available to North American buyers. The remaining RS models should be unveiled over the next 2 years.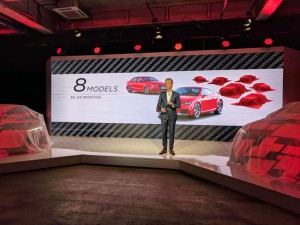 The Audi R8 LMS GT4 builds on Audi's history of production-based racing. The Audi R8 LMS was adapted from the showroom, street-legal, version of Audi R8 Coupé V10. The race car shares up to 60% of the components of the production model.
The GT4 series started in Europe and appeals to amateur racers as the series is based on road going sports cars adapted for the track. Part of the appeal is the lower cost to adapt a road car than to build one from the ground up.
The production-based Audi R8 LMS GT4 will debut at the Nürburgring 24 Hours running May 25 to 28.
At the product launch in New York, Audi Sport managing director, Stephan Winkelmann, confirmed the bond between Audi's identity and the legacy of racing that spans back to the beginning of the last Century. Mr. Winkelman pointed out that besides the marketing that comes for Motorsport, the technology transfer that filters from the track to showroom models advances the brand's appeal with customers.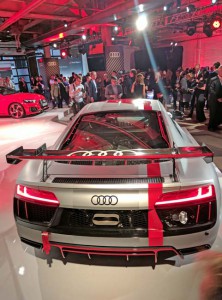 Audi also pointed that while the GT4 class originated in Europe, Audi will be looking to expand the series in North America, Asia, Australia and Europe. "13 racing series in which GT4 models can compete worldwide already exist today worldwide," says Stephan Winkelmann, Managing Director of Audi Sport GmbH. "Audi Sport GmbH is one of the leading manufacturers offering cars in the GT3 and TCR customer sport categories. Now we're targeting the GT4 class at exactly the right time. These fast-growing business segments and the DNA shared by our race cars and production vehicles underscore our ambition to become a true global player in the high-performance league." 
The Audi R8 GT4 model, will produce up to 495 HP depending requirements over the 2017 season before final homologation approval. The first set of buyers should expect delivery of the new Audi R8 LMS GT4 before the end of the year.