This 2020 Kia Forte5 competes in one of the last significant car (non SUV) categories in Canada, the compact segment.The Forte5 is a 4 door (plus hatchback) vehicle that evolved from the Kia Forte sedan and was first introduced in 2010.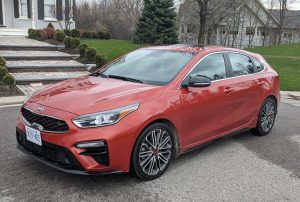 This latest model is built on a platform shared with the Hyundai Elantra. In the Forte lineup the entry level models are sedans and the hatchback option comes at a premium. Structurally, the vehicles are essentially the same except for anything back of the rear doors.
A Forte5 EX with the 2.0L 147HP engine, lists for $22,245 and includes, among other things; heated front seats and steering wheel, blind spot detection, forward collision avoidance system, Apple CarPlay, Android Auto, and a wireless phone charging system. Stepping up to a Forte5 GT ($27,395) adds the 201HP 1.6L turbocharged engine, a 7 speed dual clutch gearbox, 18 inch wheels, smart key technology with remote starting, sport seats up front, LED headlights, a sunroof and Kia's UVO app based interaction system installed.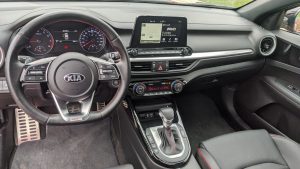 Our test vehicle was the range topping Kia Forte5 GT Limited ($29,995) adding front air cooled and rear heated seats, a dash mounted 8 inch LCD screen with Navigation built-in, and a front mounted radar system that provides Advanced Forward collision, Avoidance assistance, and smart cruise control.
For years Kia has become synonymous with value. For starters, even the base Kia Forte comes standard with perhaps my wife's favourite feature on a car, heated steering wheel. Living in a country with a harsh winter climate, this feature goes a long way in justifying a vehicle purchase. In this vehicle segment, its pretty much unheard of to find heated and cooled seats as well as a heated steering wheel. Consider the equipment featured on the GT Limited, onboard features rival vehicles costing 3 times as much.
Value aspect aside, the 2020 Kia Forte5 appeals with sharp Euro-inspired styling thanks to Kia's Chief Design Officer Peter Schreyer. He is often referred to internally, as the father of the design lead revolution. Virtually all Kia models have a familial resemblance and its a handsome one. The Forte5 GT adds chrome exhaust pipes and a combination of black and red trim on the exterior to let people know this is not the entry level model.
Powering the GT Forte is Kia's 1.6L turbocharged inline four cylinder engine. Producing 201HP and 195 lb-ft of torque, the numbers fall somewhere in the middle of what the market has to offer for supposedly hot hatchbacks. Kia rates fuel economy at 8.6 L/100kms city and 6.8 L/100kms hwy. regardless of how accurate any other these estimates are, it would appear the fuel rating is tied to the engine output so fuel economy is somewhere in the middle of what is available. Our observed fuel economy was almost spot on what was promised which is a rarity.
The interior is well designed and has an appealing symmetrical look. The GT trim in our test unit has nicely red stitched seats with GT embossed letters on the seat backs. That being said, hardware and some plastics are less impressive than the European designed offerings such as the Volkswagen Golf and more expensive Japanese models such as the Civic Type R, but that is to be expected given the price premium of those models. With that being said, the Forte5 interior is still pleasant, easy to understand, and cheerful.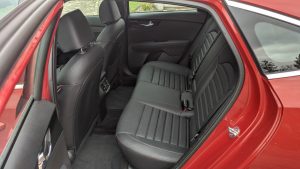 The new Forte5 benefits from an additional 16 cm of length and 2 cm over the previous model and the additional room pays dividends for passengers with more leg and head room available. Utility is always a benefit of the hatchback option and the Forte5 offers 741 L of cargo carrying capacity with the seats up and 1,335 L with the seats folded down.
Out on the road, the Forte5 proved easy to operate, with great outward vision, quiet operation and a smooth ride. In fact, in order to ramp up excitement in the GT, the engine noise is synthetically enhanced through the onboard Harmon Kardon, satellite radio equipped, audio system to make it sound more aggressive. This is feature shared with high performance German vehicles.
The combination of the 7-speed transmission mated to the turbo engine is not perfect. The power delivery can be inconsistent and it makes one yearn for a manual transmission to harness the most from the 1.6L engine. Sprint times from 0-100 kms/hr run about 7.5 seconds, about 1.5 seconds off the class leading Golf GTI.
Overall the 2020 Kia Forte5 is pleasant vehicle to drive. Its not the most exciting sporty hatch or compact car on the road but offers a stylish peppy ride for a reasonable price. Considering a Forte SX sedan can be bought with a pretty significant stable of standard equipment for $17,695, its worth a look also to see whether the additional items make sense to your budget. If they do, the
2020 Kia Forte5 GT Limited
could well be the least expensive vehicle offering with as many premium offerings.