The 2017 Audi TT RS coupe and roadster were unveiled at the 2016 Beijing international auto show today. (UPDATE.. the new Audi TT RS has been launched as a 2018 model)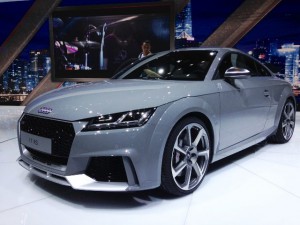 The latest generation Audi TTRS features a high-pressure turbocharged five cylinder engine outputting 400 brake horsepower with a reported top speed of 280 km an hour. Zero to 100 kms/hour reportedly slips by in a mere 3.7 seconds in the coupe. The roadster requires a fraction more and takes 3.9 seconds to reach 100 kms per hour .
Audi's heritage with high performance five cylinder engines goes back to the original Quattro coupe. In its latest application, the 2.5L inline 5 cylinder engine features an all aluminum block reducing weight in this high-performance coupe and roadster. It is noteworthy that the current version of the 2.5L TFSI engine produces 20 extra horsepower than in its previous iteration. All this power is transmitted through a seven speed S Tronic dual clutch transmission to Audi's famed Quattro all-wheel-drive system.


While the styling of the all new TT RS is slightly subdued compared to the previous model, signature features such as an exaggerated rear aerodynamic spoiler and large air intakes on the front still clearly distinguish this high-performance model over the other TT models in the showroom.
The model shown on stage featured the Nardo grey paint which is one of the two colours unique to the TTRS model. The other unique colour is the metalic Catalunya Red.
Inside the cabin, driver can enjoy Audi's virtual cockpit that allows drivers to choose what information is displayed on the dash board instrument cluster. A supplementary 12.3 inch screen emerges from the centre section of the dashboard to illustrate the functions available on the vehicle's infotainment system.
Audi is releasing the coupe and roadster simultaneously and although launch dates have not been confirmed one can expect both models to go on sale in the fall of 2016 with the vehicle being marketed as a 2017 model.