The 2017 Audi A3 will arrive in Canadian dealer showrooms this September and feature a number of cosmetic and mechanical changes.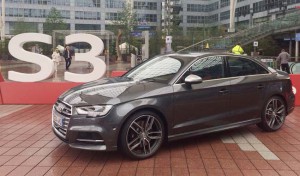 As we exited Munich's Franz Josef Strauss Airport we were treated to our first look at the refreshed 2017 Audi A3.
Exterior changes include a re-designed front grill, smaller headlights, re-styled rear bumper and rear diffuser.
Inside the cabin, drivers are now treated to Audi's outstanding virtual cockpit instrument cluster.
The refreshed A3 is also the first model to get Audi's new emergency assist that will bring the car to a stop
in its own lane if the driver doesn't react to impending danger.
The Canadian market will get two versions of the 2.0L TFSI engine.
One version will produce 186hp mated to a seven speed auto in a front wheel drive model. The base Quattro model
will be powered by a 220 hp version, coupled with a six speed tiptronic transmission.
Once again, Canadians will be offered Audi's sport version of the A3, it's enthusiast inspired S3 model.
The Audi S3 will be powered by a sport tuned 2.0L TFSI engine cranking out 292 hp. A six speed s-Tronic transmission shuttles power to the famed Quattro
all-wheel-drive system.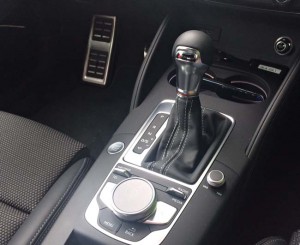 The refreshed line up also includes the e-Tron plug-in hybrid electric model.
This is the only Audi A3 model that will come as a sport back.
Driving the new Audi A3 and S3 models around Munich on a cold and rainy, late spring day was adequate to determine
that the new cars are more of a good thing. The design has evolved slightly yet the A3 still retains its curb appeal
with its sharp, clean looking lines.
The S3 impressed with its powerful engine, quiet interior and quality materials. The new virtual cockpit is a nice
addition. These cars reflect Audi`s lightweight philosophy and remain agile and responsive.
The steering feel is also excellent.
We were also given an opportunity to spend some time in the Audi A3 cabriolet. Given the rainy weather we were limited
to closed roof motoring. That being said, the absence of road noise through the fabric roof and sealed windows,
masked any sense that you were in a convertible vehicle. In other words, it is very quiet!
Once the restyled Audi A3`s land on out shores we can provide a more detailed review of the full slate of changes to these compact gems.