The all-new 2016 Mercedes-Benz GLE is the German automaker's debut into the growing sports utility coupe segment. The GLE replaces the ML-Class in Mercedes-Benz line up.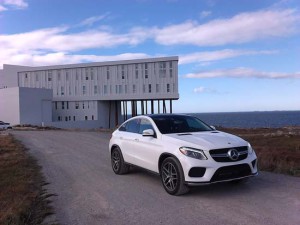 With style and substance at its heart, Fogo Island, a tiny, picturesque island off the north-east corner of Newfoundland, is the perfect destination for the press launch of Mercedes-Benz's latest 3-pointed star: the all-new 2016 Mercedes-Benz GLE coupe.
Designed to take on rivals such as the BMX X6, the GLE is 77 mm wider, 96 mm longer, and 28 mm lower than the outgoing ML-Class. Visually, the GLE exudes flair and functionality. Swooping lines, broad shoulders, a long wheelbase, short overhangs, and 20-inch light-alloy wheels give it a sporty, muscular stance that combines the practicality of an SUV with the sleek, streamlined look of a coupe.
The GLE comes in three trims: a diesel-powered GLE 350d, a GLE 450 AMG, and a Mercedes-AMG GLE 63 S. All models come standard with 4MATIC permanent all-wheel drive to improve traction and stability. Under the hood, the GLE 350d 4MATIC gets a 3.0-litre turbo diesel V6, which pumps out 249 hp and 457 lb-ft of torque. The mid-range GLE 450 AMG 4MATIC gets a 3.0-litre twin-turbo V-6 gas engine, which produces 362 hp and 384 lb-ft of torque and is capable of hitting 0-100 km/hr in 5.7 seconds. And the top-of-the-line Mercedes-AMG GLE 63 S 4MATIC gets power from a 5.5L AMG twin-turbo V8 with a staggering 577 hp and 561 lb-ft of torque. It'll hit 0-100 km in only 4.2 seconds! Too bad it's not available for our test drive.
As soon as our flight lands from Toronto to St. John's International Airport in Newfoundland, I'm off, test driving a hyacinth red GLE 450 AMG 4MATIC for the 335 kilometer route to Gander, our pit stop before heading to Fogo Island. Along the sweeping roads, my tester is powerful, smooth, and composed. It's agile and nimble, especially along corners. Active Curve Assist with active roll stabilization helps reduce roll in corners and provides enhanced stability.
Both the 450 AMG and the 350d get a new nine-speed automatic transmission, which is smooth and precise; the AMG 63 S gets paired to a 7-speed dual-clutch auto. Gearshift paddles on the steering wheel let you select gears manually for a sportier drive; while Dynamic Select lets you toggle between different transmission modes: comfort, sporty, slippery or individual. The 450 AMG and the Mercedes-AMG 63 S up the ante by adding a Sport+ mode, which is incredibly firm, sporty, and dynamic. It also lowers the suspension by 25 mm.

The next day my ride is a polar white GLE 350d 4MATIC. At the crack of dawn, we head out for a 131 km drive from Gander to Barbour Living Heritage Village, before continuing another 139 kms to Farewell Harbour to board the ferry to Fogo Island, a tiny fishing community with only 2,500 residents. Luckily, tourism is on the rise thanks to multi-millionaire Zita Cobb. Born and raised in Fogo Island, she left at 16, found her fortune in the dot-com industry, and later returned home to create Shorefest Foundation to inject new life into Fogo Island and make it a geotourism destination. Besides creating artist studios and offering scholarships, Cobb invested $40 million to build Fogo Island Inn – a breathtaking five-star hotel built on stilts with spectacular views of the Atlantic Ocean. With my GLE 350d parked in front of the Inn, I understand Mercedes' choice for the press launch location – it's the perfect complement of design, art, and substance merging together with nature and technology.
The 350d returns impressive fuel economy numbers – much better than its gas-powered sibling. I averaged a frugal 8.9L/100 kms vs. 13.1L/100 km with the 450 AMG. An ECO Start/Stop Function helps improve fuel efficiency by killing the engine when stopped to cut fuel consumption even further. Tech features such as DISTRONIC PLUS with Steering Assist, PRE-SAFE Brake with Pedestrian Recognition, Active Lane Keeping and Active Blind Spot Assist also keep you safer on the road.
Inside, the GLE is elegant and upscale. Everything is where you'd expect to find it – all within the driver's reach. The front seats are heated, cooled and very comfortable on long drives. Due to the sloping roofline, the rear seats are a little short on headroom. For me, at 5'5 it's fine, but if you're taller than 6'ft you might bump your head. Trunk space is ample with 650 litres of room. But if you need more, fold the rear bench seats down and it expands to a cavernous 1,720 litres.
The 2016 MB GLE 350d 4MATIC starts at $72,300 and comes loaded-to-the-nines with a power tailgate, panoramic sunroof, rear-view camera, heated steering wheel, and a driver's knee airbag. The 450 AMG 4MATIC is $77,600 and the GLE 63 S 4MATIC costs $116,500. The GLE is already available in dealerships.