The 2016 Honda Civic hopes to continue being Canada's best-selling passenger car – a title it's held for 18 straight years. Bolstering its chances to repeat this year, the 2016 Honda Civic is improved in many areas.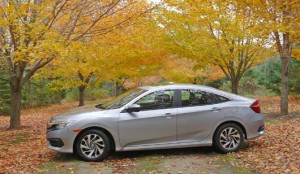 The made-in-Canada Civic sedan gets completely redesigned from the ground up with an all-new chassis, all-new body, more safety technology, and two completely new engines.
"Canadians can also take pride in knowing that every Civic coupe, sedan, and Si model sold in Canada is made right here in Ontario, for Canadians, by Canadians," boasted Jerry Chenkin, president and CEO of Honda Canada Inc. at a ceremony to mark the all-new tenth-generation Civic sedan rolling off the line at Honda of Canada's Manufacturing facility in Alliston, ON in October. Honda was the first Japanese automaker to manufacturer cars in Canada in 1986 at the Alliston plant. Since then, more than 7 million vehicles have been produced there.
From the outside, the 2016 Honda Civic sedan gets more aggressive, athletic, and sporty in its design. It's longer, wider and lower to the ground than the last version. New vibrant colours are added to the same-old boring shades of silver and grey to spice up the lineup with shades such as Aegean blue metallic and Burgundy night pearl.
Likewise, inside the Civic has a more premium and modern feel with a new instrument panel, a wide dashboard design, and a two-tiered centre console. But I'm not a big fan of the 7-inch touchscreen – it's not as user-friendly as some of the competition. I miss a traditional volume dial. It's easier and faster to use than hitting the volume icon on the touchscreen to raise or lower the sound. But at least there are redundant climate control dials below the screen, which make it quick and easy to adjust the temperature. A sliding tray in the armrest nicely hides valuables from wandering eyes. And an electronic parking brake creates more space in the cabin. In fact, there's an extra 8 mm of legroom in the front seats and 31 mm of rear legroom, which makes it more comfortable riding in the rear seats. The trunk space has also increased to 428 litres – that's up 75 litres from the last version. A larger trunk pass-through also makes it easier to load awkwardly shaped items.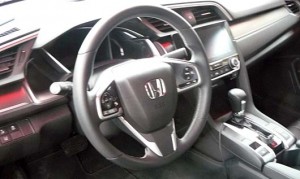 Power comes from two all-new engines: a base 2.0-litre DOHC inline 4 cylinder and a turbocharged 1.5-litre DOHC inline 4-cylinder, which is Honda's first turbo offering in North America. The 2-litre is the most powerful base engine ever offered in a Civic. It gets an extra 15 horsepower and 9 lb-ft of torque for a total of 158 hp and 138 lb-ft of torque. It's mated to a continuously variable transmission (CVT) or a 6-speed manual transmission. Despite the power boost, the 2-litre is also more fuel efficient than the 1.8L it replaces. Highway efficiency has improved about 10 per cent. The combined highway and city fuel economy number is rated at 6.9L/100 kms. The 1.5L turbo pumps out 174 hp and 162 lb ft of torque while returning a combined fuel economy of only 6.7L/100 kms. It gets paired to a CVT, which is surprisingly quiet and well refined. In general, the cabin is quiet and well insulated against road, wind, or engine noise along my drive route in Collingwood, ON. My tester, a top-of-the-line Touring trim, feels secure and solid on the road. And it's loaded with features you'd expect to find on premium luxury cars such as rain-sensing wipers, a remote engine start system, a push button start, wireless charging, Apple CarPlay, Google Android Auto, and Honda Sensing safety and driver-assistive technology, which includes a number of safety tech features such as Adaptive Cruise Control with Low Speed Follow, Lane Keeping Assist, Forward Collision Warning, and a Lane Departure Warning system.
The 2016 Honda Civic sedan comes in several trims including the base model DX, LX, EX, EX-T, and Touring. The price of the base 2016 Civic DX model is $15,990 – about $240 more than the 2015 model, but you get an extra $2,300 worth of goodies including new LED daytime running lights, LED tail lights, a rear view camera, key-less entry, power door locks, rear disc brakes and the new 2.0L engine. Prices top out at $26,990 for the Touring trim. The Civic sedan is sold alongside the Civic Coupe, the high-performance Si and will be followed into dealer showrooms by a 5-door hatchback, and the Civic Type-R models.