From the early days of the company, Bentley has always been synonymous with speed and racing, a heritage that can be traced all the way back to W. O. Bentley and the famed Bentley Boys. The marque's latest vehicle, the 2006 Bentley Continental Flying Spur was inspired by the 1952 Bentley R-Type Continental and the 1957 Continental Flying Spur, and continues the trend. It's also a very different from car from the Bentleys of just a decade or so ago – it's not only modern, it is being touted as the fastest four-door production car in the world with a reported top speed of 312 km/h!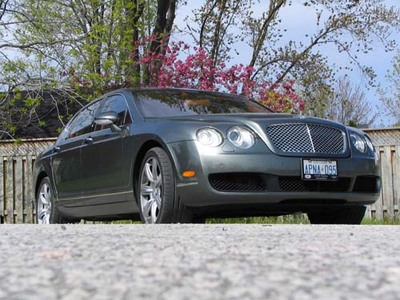 The power needed to motivate something that tips the scales at slightly less then a three-bedroom house to this sort of speed is mind-boggling. Thankfully, the Flying Spur lives up to its name, due to the twin-turbo, 6.0-litre, 12-cylinder engine under the hood, producing 552 horsepower and no less than 479 pound-feet of torque at an amazingly low 1,600 rpm!
The instant you tromp the gas this thing pulls, taking just 5.2 seconds to reach 100 km/h. Think about that for a moment: The Flying Spur is capable of out-dragging some of the World's fastest cars and this in spite of its 2,465-kilogram mass.
However, where this monster truly excels is in the mid-range. Forget the largesse and leather-lined luxury it totes around, because it zips between 80 and 120 km/h in just 3.3 seconds. This is just 0.2 seconds behind the Chevrolet Corvette Z06 and 1.2 seconds faster than the Dodge Charger SRT8.
To ensure all those galloping stallions get to the pavement with minimum fuss, the Flying Spur uses a top-notch all-wheel drive system and a six-speed automatic transmission that includes a manual mode. The result is a car that moves off the line with alarming speed but without so much a chirp from its massive P275/35R20 tires.
So, what's the downside? Well, when you burry the gas pedal the fuel economy gauge displays 99 litres per 100 kilometres. Yes this is not a misprint, one litre of fuel for every kilometre driven at full throttle. Our test average of 29.4 L/100 km, was still more than my wallet could bear.
The Flying Spur handles better than one would expect. With a good driver-adjustable damping system supporting the car it rocks through a corner without the usual roll. The steering is also nicely weighted and the turn in commendably fast for such a heavy car. It all comes together with a precision I did not expect. If things do go awry, there's always the electronic stability system waiting in the wings.
The brakes are also up to the job of slowing 2,465-kg of automobile. With 15.9-inch front and 13.2-inch rear vented rotors they are the largest fitted to a production car. Tromp on the brake pedal and the Spur records stopping distances of just 41-metres from 100Km/hr, which is, again, nothing short of amazing. They are also remarkably fade-free given the workload and the system has a decent pedal feel, which is a marked departure from Bentley's of yore.
The other side of the Flying Spur also comes through loud and clear – unbridled opulence. Consider the leather – it's not only found on the seats, dash, door panels, head lining and sun visors, it is wrapped lovingly the door posts and kick panels. Obviously, all this real estate requires plenty of top-notch leather – 11 full hides to be exact. This is then balanced with some of nicest burr walnut offered in all of autodom and a tasteful splash of chrome. The effect is as warm, welcoming and comfortable, as it is bespoke.
The 16-way power front seats are heated and cooled, the audio package is up to snuff and the climate control system effective. Indeed, it is all about as far removed from recent Bentleys as is possible – I'm convinced earlier models such as the Redline and its ilk, were designed and built alongside Noah's Ark. Indeed, the only throwbacks are the chromed organ stops that open and close the air vents.
In the backseat, the opulence and pampering continues. The seats are wonderfully comfortable, there are separate climate controls for the outboard passengers and that lovely leather is again heated and cooled. My daughter was so impressed she took to trying to climb into the car every time we walked by it – a first. She also adopted a my-poopy-diaper-does-not-stink attitude once strapped into her safety seat, which seems only fitting for a ride worth almost as much as a modest house.
For all the wonderful news so far, there are some glaring omissions. For example, while there is a powered rear sunshade, there are none for the side windows – come on, how is one supposed to remain aloof when the peasants can peer in? Seriously though, the navigation system takes a bit longer to update when you want to zoom in (most systems are instantaneous), and there is no back-up camera or pictogram to show where a potential body-wrinkling obstacle lies. Instead, well, you get a really annoying beep that tells you something is near a part of the car you can't see. Thanks.
The other foible has to do with the paddle shifters for the manual side of the automatic transmission – they are mounted to the steering column and not the steering wheel. Consequently, you are forced to take your hand off the steering wheel to initiate a shift when any steering is dialed in. Considering the engineering excellence found throughout the rest of the Flying Spur, this really is not a very clever layout.
The price as tested was $222,990 CDN and came equipped with leather, leather and more leather, four-zone electronic climate control, heated and cooled rear seats with adjustable lumbar support, power pull-ins for all doors, navigation system, 12-channel audio output with 6-disc CD changer, keyless entry, anti-theft protection, full-time all-wheel drive, anti-lock brakes, traction/electronic stability control systems, 8 airbags (two front, four side and full-length drop-down side curtains).
All whining aside, the new Bentley Continental Flying Spur is a wonderful machine. On one hand it is beyond luxurious. On the other, it now features state-of-the-art engineering, it is incredibly fast and remarkably agile for such a large heavy car. Simply stated, it deserves the Bentley badge that adorns its sexy form.