The Audi SQ7 can be summed up in a word; technology. That is what drives the latest-and most powerful- diesel SUV you can buy.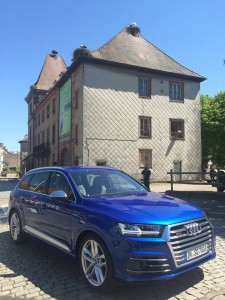 For starters, the SQ7 TDI puts out a staggering 435bhp and a monster ours 663 lbs/ft of torque.
It also features an industry first EPC (electronic powered compressor) which eliminates turbo lag by electronically spinning up the first of the sequential turbos to 70,000 rpm in about .25 of a second. The twin turbo 4.0L V8 features a sequential turbo setup.
It's not all about the power. One of the more interesting pieces of tech is the electro-mechanical sway bar which uncoupled on rough roads than is locked for sport driving.
There is also a 48 volt sub system that uses a DC/DC converter to interact with the 12 volt system. Having 48 volts helps with various driving systems that simply can't be done with a 12 volt system.
In our driving time a few things became instantly apparent- this is a quick vehicle.
Deceptively quick.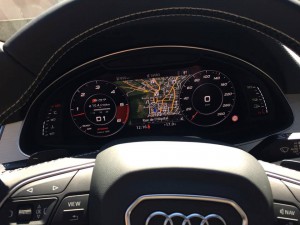 As in a light touch on the loud pedal and for sure a second later you're speeding.
It's also very quiet. It can get louder when you use the drive select and pick the dynamic setting.
Through the twisty mountain sections around Mulhouse, France, the SQ was lights out. Fantastic launches out of hairpins brought massive smiles. The braking and handling are on par with the power thanks in part to the all wheel steering and sport Quattro differential
What a joy to drive….and all that we averaged under 10L/100kms fuel economy.
The interior is nicely laid out and features all the quality materials and safety features you'd expect from Audi.
Canada won't see the SQ7 until mid 2017, but if you're in the market….it's worth wait….well worth it.